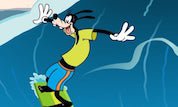 Play Now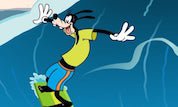 Unfortunately Goofy in Wipeout is not available on your device. Please try one of the related games instead or visit our HTML5 category.
This Flash game is loaded using an emulator. If you notice any glitches(such as the game getting stuck or music/sound missing), click to play the original version with NuMuKi Browser for the best experience.
About Goofy in Wipeout Game
Do you know that kid that is not good at anything but everyone loves and helps him? It is your chance to help that guy while playing Goofy in Wipeout Game.
Poor thing, he cannot under no circumstances maintains his equilibrium of that surfboard, and he needs a little push from someone else; otherwise, he will get into the water faster than you would imagine somebody was capable.
How to play the game
Hit the waves and control Goofy's movements with the arrow keys on the keyboard. Make him balance from the left to right so he can stay on the board and move him around on the wave. He will unmistakably have lots of fun with you around him to help once in a while. And by once in a while, I mean all the time, because he is not such a great surfer and he needs constant supervision, or he will fall into the water in a blink of an eye.
Every now and then, someone will throw flower leis towards you. Catch as many as you can because not only they look cool on everyone, but they will also guarantee you some extra time and points that Goofy needs very badly. The more time he is allowed to stay on the board, the faster he will be able to do it by himself later. Once caught, the flowers will add some seconds to the remaining time.
If you let Goofy fall, do not blame yourself too much, it happens. Just get back the board hit the play again button and try once again your best to teach him what it means to ride the waves like a pro.
If you enjoy playing Goofy in Wipeout, you might be excited to find out that there are 78 more Retro games you can try! The most popular is Dave's Castle Hunt, and the most recently added is Sonny With a Chance: So Sketchy