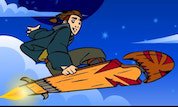 Play Now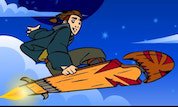 Unfortunately Solar Surfer is not available on your device. Please try one of the related games instead or visit our HTML5 category.
This Flash game is loaded using an emulator. If you notice any glitches(such as the game getting stuck or music/sound missing), click to play the original version with NuMuKi Browser for the best experience.
About Solar Surfer Game
Surfing is your thing, but the water part is starting to become too mainstream for you? Play Treasure Planet: Solar Surfer game to pop out of the daily routine and surf across the sky and stars.
Use the arrow keys to fly around and to start the engine. Be patient until you learn how the low gravity works because you will surely glide around aimlessly in the air until you understand how the controls work the best.
How to play the game
Funny enough, it seems that some pirates have been around here before you arrived and they have left behind some exciting stuff. Well, you know the saying, finders keepers. Try to collect all the lost items to have fun with them later and surf around until you take them all. One's man trash is another man's treasure!
The single thing that might get in your way is the small fuel tank. Since your board uses so much fuel, you will have a limited amount of moves to use to catch the things that you want. But do not let that discourage you, there is plenty to get you going on for ages if you use your brain a little to think before.
After you have collected them all, a red platform will pop up, and the next thing you have to do is to try to land on it, or at least near it. This way you will start the next level in no time. Throughout all the eleven levels, more and more objects that have to be collected will appear, but for one like you, that won't be a problem!
If you enjoy playing Solar Surfer, you might be excited to find out that there are 78 more Retro games you can try! The most popular is Dave's Castle Hunt, and the most recently added is Sonny With a Chance: So Sketchy