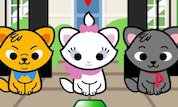 Play Now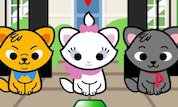 Unfortunately Marie's Block Party is not available on your device. Please try one of the related games instead or visit our HTML5 category.
This Flash game is loaded using an emulator. If you notice any glitches(such as the game getting stuck or music/sound missing), click to play the original version with NuMuKi Browser for the best experience.
About Marie's Block Party Game
There is nothing more lovely than seeing some kittens playing with different objects. Marie's family just loves the blocks, and they would play with it all day long. You can try as well to get into their playing zone with the Marie's Block Party game.
All you need to do is help the kittens get a high score by associating blocks of the same color to make them disappear. There is a color for each member of the family. Marie's blocks are pink. Toulouse uses the yellow color, and Berlioz green. The bricks for the Duchess are blue, and those for Thomas O'Malley are red.
Clear as many bricks as possible
Excepting these blocks, the grey blocks belong to Edgar. They will cause only trouble for you because when a grey block with an "E" on it comes, it means that there will be another set of bricks on your way.
The pink blocks with an M on them will clean the bricks around it. The yellow ones with a T will make the blocks fall one by one and clean it.
Berlioz's blocks with a B on it will help you clean all the green blocks on your screen. When the Duchess's blocks come, they will make the next round of block fall slowly. Finally, the red ones that have an O on them will clean an entire row of blocks for you.
What else you should know
Use your arrow keys to control the blocks while they fall. The up arrow key will turn the blocks clockwise. The down arrow key will make the blocks turn counter-clockwise. The left and right arrow keys will cause the blocks to rotate in the direction the arrow indicates.
If you decided what should be the position of the block and it is not already in its place, you can press the space-bar, and the block will instantly fall where you want.
Make combinations of at least four blocks of the same color to make it disappear. You will pass the level after you finished cleaning the requested number of blocks per level.
If you enjoy playing Marie's Block Party, you might be excited to find out that there are 78 more Retro games you can try! The most popular is Dave's Castle Hunt, and the most recently added is Sonny With a Chance: So Sketchy