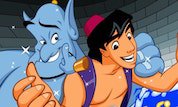 Play Now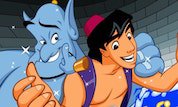 Unfortunately Aladdin's A-maze-ing Map is not available on your device. Please try one of the related games instead or visit our HTML5 category.
This Flash game is loaded using an emulator. If you notice any glitches(such as the game getting stuck or music/sound missing), click to play the original version with NuMuKi Browser for the best experience.
About Aladdin's A-maze-ing Map Game
Aladdin is going on a great adventure, and he needs you by his side. If you ever wanted to discover the secrets of his world, now you can lead the way to Aladdin and see how far you can get in the Aladdin's A-maze-ing Map game.
Aladdin will be waiting for you to draw a map with your mouse using Genie's finger. Aladdin needs to pass the stage in the shortest time possible, avoiding the obstacles.
What is essential for you to know is that from the second you pressed Play, the time will start ticking, and you only have a few seconds to draw the map and to lead Aladdin to the finish line.
How to play the game
To make Aladdin move, you have to use the left and right arrow keys. You can also use the up arrow key to jump. If you are stuck, just click on the "Erase" button from your screen and you will start the level again.
Keep an eye on the timer on the left all the time. If the time runs out, the game will be over. You have only three lives per level, so if you are hit by one object or if you bump into some obstacles, you will lose a life.
The purpose of the game is to get to the finish line as fast as possible. Doing it will bring you extra points, and you will have an excellent final score at the end of the game. Make the route as easy as you can, so Aladdin does not have any significant problems trying to follow it.
Good luck!
If you enjoy playing Aladdin's A-maze-ing Map, you might be excited to find out that there are 78 more Retro games you can try! The most popular is Dave's Castle Hunt, and the most recently added is Sonny With a Chance: So Sketchy