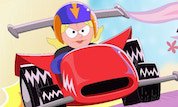 Play Now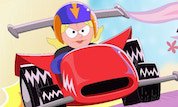 Unfortunately Turbo Racer is not available on your device. Please try one of the related games instead or visit our HTML5 category.
This Flash game is loaded using an emulator. If you notice any glitches(such as the game getting stuck or music/sound missing), click to play the original version with NuMuKi Browser for the best experience.
About Turbo Racer Game
Play Lizzie McGuire: Turbo Racer game if you are into cars, and you love the feeling of adrenaline. You have to help Lizzie McGuire finish the three laps rally circuit in time, but also pay attention to the fact that meanwhile, she has to gain as many points as she can.
Firstly you have two options. You can press the play button if you want to start the game right away, or if you have more questions, you can press on "How to Play" button.
How to play the game
If you choose to skip the instructions, you have to select between two modes of play: the training mode or the challenge mode. If you go for the training mode, you will only have to race on a single racetrack so you can get used with the keyboard commands. The challenge mode contains all of the five tracks, and you will have to finish them before Lizzie is running out of time.
The five racetracks are named "Lizzie's bedroom 1", "Lizzie's Bedroom 2", "School Hallway", "The Mall" and "Digital Bean." This way, you will take the racecar on various routes at different levels of difficulty.
While playing, pay attention to the time panel on the right side of the screen. The time needed to finish the race is crucial because you'll gain additional bonus points for every second left on the clock. You have to finish the race before time runs out, of course.
Use your keyboard arrow keys to accelerate, brake, or steer. Pay attention to all different kind of objects that might pop out along the run. Some of them might give you bonus points, all sorts of boosters or even bonus time, while others might slow you down and cut off from your points.
Ready? Go!
If you enjoy playing Turbo Racer, you might be excited to find out that there are 78 more Retro games you can try! The most popular is Dave's Castle Hunt, and the most recently added is Sonny With a Chance: So Sketchy