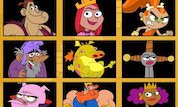 Play Now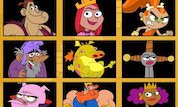 Unfortunately Operation Rescue Candy is not available on your device. Please try one of the related games instead or visit our HTML5 category.
This Flash game is loaded using an emulator. If you notice any glitches(such as the game getting stuck or music/sound missing), click to play the original version with NuMuKi Browser for the best experience.
About Operation Rescue Candy Game
In fairytales and usually in books with princes and princesses, some villains sometimes take the princess away. Even if we all hate when this happens, we cannot change the story. The same thing happened in Dave the Barbarian: Operation Rescue Candy game.
Chuckles kidnapped sweet Candy, and now Dave has to save her. Your help is essential, so jump in and assist Dave with three different things.
How to play the game
To save Candy, you have to pass some tests. The first one consists in seeing some photos of the characters. What you need to do is to find out which figure is hidden under the moving picture, in fifteen seconds. You also have a few tries if you do not guess the character from the first try.
If you can guess the character right ten times, you will go to the next stage of the game. This second way in which you can save Candy has to be played from your keyboard. You need to copy the movements that Chuckles does.
You will have two flags, one red and one white. Chuckles will move his flags up and down and to do the same, you have to press the R key for raising the red flag, and the F key to lowering it.
As for the white flag, press the "I" key to raise it, and the J key to lowering it. Try not to make too many mistakes, or you will have to start again.
For the last stage, you will have to remember in which order the characters appear on the screen. When you finish all the levels, you will be able to save Candy!
If you enjoy playing Operation Rescue Candy, you might be excited to find out that there are 78 more Retro games you can try! The most popular is Dave's Castle Hunt, and the most recently added is Sonny With a Chance: So Sketchy