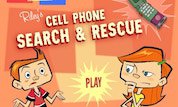 Play Now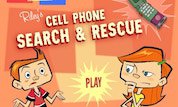 Unfortunately Riley's Cell Phone Search & Rescue is not available on your device. Please try one of the related games instead or visit our HTML5 category.
This Flash game is loaded using an emulator. If you notice any glitches(such as the game getting stuck or music/sound missing), click to play the original version with NuMuKi Browser for the best experience.
About Riley's Cell Phone Search & Rescue Game
Help Todd find his mobile phone in Riley's Cell Phone Search & Rescue, a five-level mouse-operated game. Todd was doing skateboard tricks at the park, and his phone fell out of his pocket. All his stuff is on there, so it can't be replaced.
Now Riley must help him find it by using a few gadgets that she borrowed from their mom, Agent K. She has a scanner at the bottom of the screen, which tracks bullies Buzz and Shelton as a green and orange dot respectively, as well as a stray dog who is chasing you (in white), so you can stay away from them.
How to play the game
The scanner also keeps your score and tracks Todd's phone as a purple dot. You must guide Riley to it with your mouse, but looking through other bushes by walking into them is still a good idea, even if Todd's phone isn't there. They will give you extra points, batteries for the scanner, and gadgets and items you can use to slow down the bullies and get away.
The bubble gum blower will make your attackers get stuck, the marbles will trip them up, the oil will cause them to slip, the freeze spray will freeze them, and the bone will distract the dog. You use all these with the left mouse button.
Batteries get used automatically. If your scanner battery runs out, it's game over!
Navigate the park and the hedge mazes, help Todd phone and don't let Buzz steal it from you!
If you enjoy playing Riley's Cell Phone Search & Rescue, you might be excited to find out that there are 78 more Retro games you can try! The most popular is Dave's Castle Hunt, and the most recently added is Sonny With a Chance: So Sketchy