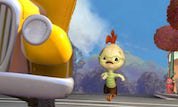 Play Now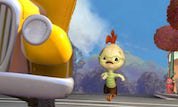 Unfortunately Chicken Little Miss The Bus is not available on your device. Please try one of the related games instead or visit our HTML5 category.
This Flash game is loaded using an emulator. If you notice any glitches(such as the game getting stuck or music/sound missing), click to play the original version with NuMuKi Browser for the best experience.
About Chicken Little Miss The Bus Game
If you know what it means to oversleep on a school day and how bad it is, you will want to play Chicken Little - Missed the Bus Game and help this poor little soul to get to school on time.
Follow the bus as it goes around the streets to find the way that leads to the destination. Use the arrows to move our favorite geek and avoid the dangerous things around. Try not to get hit by cars because they will make you lose points and time and it surely cannot be a pleasant experience, not even in a game. Also, fire hydrants and sprinkles can be a pain in the neck at all times so avoid those too as much as you can.
Pay attention to what's happening around all the time
Watch where you step because the pavement might have gum and oil on it which will certainly slow you down, sometimes it might even be cracked so take great care. Besides all those nasty things you will also find some that are useful, such as a skateboard which will boost your speed up a lot, but there are downsides to it too. If you get hit by anything while you are on it, it will go back to the place where you took it.
Every here and there will fall bits of sky, collect them to get a higher score and sometimes you might even find some clocks that will give you extra time to get to class. When you see a sewer, use it as a shortcut to cut off some time. Stay on the road as much as you can because other terrains will make you run slower.
Now, good luck!
If you enjoy playing Chicken Little Miss The Bus, you might be excited to find out that there are 78 more Retro games you can try! The most popular is Dave's Castle Hunt, and the most recently added is Sonny With a Chance: So Sketchy