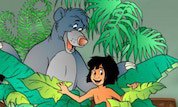 Play Now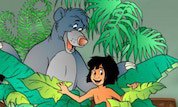 Unfortunately Jungle Boogie is not available on your device. Please try one of the related games instead or visit our HTML5 category.
This Flash game is loaded using an emulator. If you notice any glitches(such as the game getting stuck or music/sound missing), click to play the original version with NuMuKi Browser for the best experience.
About Jungle Boogie Game
There are all kinds of animals in the jungle, but there also lives a courageous boy, Mowgli. He has an important task to accomplish today, and that is to save his best friend, Baloo. During the Jungle Boogie game, you have to help him get through the dangerous jungle and find Baloo, the bear.
How to play the game
You need to use the left and right arrow keys to control Mowgli's moves. Using the up and down arrow keys, he will be able to climb on the stairs. When you press the space-bar key, Mowgli will perform jumps. Collect all the fruits that appear on your way to get points.
Be very careful because there are some villains in the jungle that would do anything to stop you. Watch out for the snake or the tiger. They are your enemies. More than that, be careful at the swinging vines, the moving platforms, the extending platforms or at the disappearing rocks.
Every time you fall, you will lose a life. When all your life-points are over, the game ends. Also, if you run out of time, the game will be over, and you will be able to see your final score.
Mowgli would do anything for his friend, and this is the reason why he decided to travel the jungle for him. Show Mowgli that you are also a real friend and offer him your help when he needs it the most. Baloo will also appreciate it, and he will become one of your friends. Moreover, you get the chance to discover the jungle for yourself.
Good luck!
If you enjoy playing Jungle Boogie, you might be excited to find out that there are 78 more Retro games you can try! The most popular is Dave's Castle Hunt, and the most recently added is Sonny With a Chance: So Sketchy