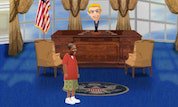 Play Now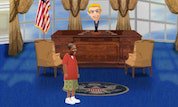 Unfortunately Bobblehead Run is not available on your device. Please try one of the related games instead or visit our HTML5 category.
This Flash game is loaded using an emulator. If you notice any glitches(such as the game getting stuck or music/sound missing), click to play the original version with NuMuKi Browser for the best experience.
About Bobblehead Run Game
Sophie is once again in the mood for pranks in Cory in the House: Bobblehead Run game! She is running everywhere to hide Cory's toys all around the White House, right before the meeting with the president! I think her most exceptional talent is to find the most unfortunate moments for other people.
But now there is no time for whining, and you have to take the matter into your own hands because one cannot merely make the president himself wait, he is a quite famous person.
Get all the bobbleheads that were left behind by Sophie by guiding Cory using the arrow keys on the keyboard.
How to play the game
Whenever you need to step the pace up a bit, press the Shift key to make him run faster. Even though this girl might seem very small and tiny, she somehow managed to put those toys even on the upper shelves, so jump high by pressing the space-bar whenever it is necessary.
Here is a tip though, when you need to make a big jump, hold shift and run a bit, this way you will make more prominent and more extended leaps to rescue all the bobbleheads.
While you run, never forget where you are! That is right; it is the president's house, so do not even think of breaking something or else you will get in trouble and will lose five hundred points. Take care not to make any busts fall to the ground when you run by them.
If you are going too fast, the column will tremble and lose balance, thus making the statue fall. Just slow down as you are getting too close to each statue and everything will be alright.
If you enjoy playing Bobblehead Run, you might be excited to find out that there are 78 more Retro games you can try! The most popular is Dave's Castle Hunt, and the most recently added is Sonny With a Chance: So Sketchy