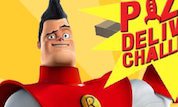 Play Now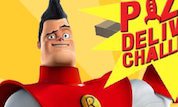 Unfortunately Pizza Delivery is not available on your device. Please try one of the related games instead or visit our HTML5 category.
This Flash game is loaded using an emulator. If you notice any glitches(such as the game getting stuck or music/sound missing), click to play the original version with NuMuKi Browser for the best experience.
About Pizza Delivery Game
Uncle Art has a critical mission to do today. He has to deliver as many pizzas as he can to Robinson's family members, but he needs your help in Meet the Robinsons: Pizza Delivery game.
The Robinsons are scattered throughout today land, and they cannot go get the pizza for themselves. Uncle Art wants to make sure they receive the pizzas in time, and he uses his spacecraft to move through the city. Using Uncle Art's navigation system, find out where the Robinsons are and follow the little arrow from your screen to get to them.
How to play the game
Use the arrow keys to move and when you want to drop a pizza, just simply press the space-bar button from your keyboard. Be very careful with the Robinsons pet dinosaur. He is going to chase you all the way to take your pizza. To make him stop, you need to collect the balls and the salt in your way. In this way, you will have a few seconds to run as far away from him as you can.
To use the items against him, you need to press the Q key, and when you press the W key, you will cycle between multiple distraction items. Be careful because each of them has its pros and cons, so you need to use them wisely.
More than that, make sure that you do not run out of pizzas. When you empty your stock, go back to the ingredients store and make more pizzas. When you finish delivering pizza to all the Robinsons, your day will be over.
If you enjoy playing Pizza Delivery, you might be excited to find out that there are 78 more Retro games you can try! The most popular is Dave's Castle Hunt, and the most recently added is Sonny With a Chance: So Sketchy