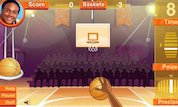 Play Now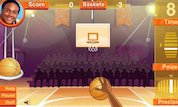 Unfortunately Eddie's Shot Clock Showdown is not available on your device. Please try one of the related games instead or visit our HTML5 category.
This Flash game is loaded using an emulator. If you notice any glitches(such as the game getting stuck or music/sound missing), click to play the original version with NuMuKi Browser for the best experience.
About Eddie's Shot Clock Showdown Game
If you like sports, especially if you are into basketball, then That's So Raven: Eddie's Shot Clock Showdown game is perfect for you. It's simple and straightforward to play! You only need your keyboard!
Move faster and with precision to score as many points as you can before the time runs out. You have at your disposal a few seconds so be careful and with your eyes always on the basket and on the timer.
How to play the game
There is a minimum required amount of baskets you need to score in each stage. The higher the level, the more points you need to score! Use the space-bar to control the power and precision of your shots.
Be careful and take advantage of the following tips: always try to get as close as you can of the center hotspots. You can spot these two on the right side of the screen right under the timer.
On the upper side of the screen, you are going to find the number of baskets you have to take and the score. By scoring one basket, you will get 100 points, and if you have the skills necessary for winning, you can get bonus points by scoring multiple baskets in a row. To make it easier for you, you will get bonus points for every second left on the timer at the end of each round.
If you have any more questions, you can hit the "Help" button placed on the left side of the screen. You also can pause the game, quit it if you like or mute the music playing in the background.
What are you waiting for? Go on and score as many points as you can each round and show your friends you are the best!
If you enjoy playing Eddie's Shot Clock Showdown, you might be excited to find out that there are 78 more Retro games you can try! The most popular is Dave's Castle Hunt, and the most recently added is Sonny With a Chance: So Sketchy