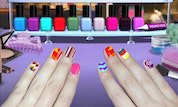 Play Now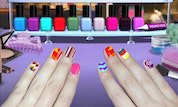 Unfortunately Miranda Manicuranda is not available on your device. Please try one of the related games instead or visit our HTML5 category.
This Flash game is loaded using an emulator. If you notice any glitches(such as the game getting stuck or music/sound missing), click to play the original version with NuMuKi Browser for the best experience.
About Miranda Manicuranda Game
Play Miranda Manicuranda game if you like doing your manicure in real life. So just start experimenting more here, only by giving Miranda the best and the most beautiful manicure she has ever dreamed of.
Start by clicking on each finger to change the shape and the form of the nail. You also have at your disposal different tools to finish the manicure and give your friend the best experience she has ever had.
Use the tools for a perfect manicure
You can use the remover tool, which you will find on the right side of the shelf. Use it if you have to take off the old polish. You can do the nails whatever color you want by choosing one of the many small bottles of nail polish from the shelf. All you have to do is click on which one you are picking, then by only using the wand, you can pay the nails.
After all this work you have done so far, you can choose to apply some applique over the colored nail polish you've used already. To use it, you only have to click on it, and that's all! You can see the beautiful work you've done by clicking on the dry button. A natural and extraordinary manicure you have done for your best friend in only a few minutes and for which be sure that you are going to hear a lot of compliments from many of your friends!
So, just by using your mouse, you can do extraordinary work and please everybody. Yes, just as easy as it sounds, so what are you waiting for?!
If you enjoy playing Miranda Manicuranda, you might be excited to find out that there are 78 more Retro games you can try! The most popular is Dave's Castle Hunt, and the most recently added is Sonny With a Chance: So Sketchy