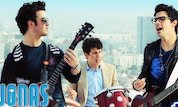 Play Now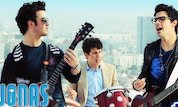 Unfortunately Skyscraper Scramble is not available on your device. Please try one of the related games instead or visit our HTML5 category.

Click "Allow" to play Skyscraper Scramble!
Click "Always allow" to play Skyscraper Scramble!
There are some games on Disney--Games.com which require Flash. Enable it above.
Allow Flash pop-up not showing up? Click here
Many browser games, especially the older ones, are developed using Flash. Each game on our website is thoroughly checked before publishing so you can rest assured that playing Flash Games on Disney--Games.com is absolutely safe. For any questions or issues, please Contact Us.
First, you need to wait for the page loading to complete to see the Allow button.
Disney--Games.com
About Skyscraper Scramble Game
Now it is a time when the Jonas Brothers are in great need of help to give a gig at the top of a skyscraper, in Jonas L.A.: Skyscraper Scramble game, and fast!
Collect all the instruments that are lying around at different levels of the building. Also, collect the other things to make them able to play before everything gets dark, and they cannot shoot it on cameras anymore.
How to play the game
First, choose one of the Jonas Brothers that you want to play with and then move him around using the right and left arrow keys. When you want to enter a door or an elevator, use the up or down arrow keys depending on if you're going to get in or out. Now all you have to do is to find all the gear for the concert.
Use the little yellow things above your head to guide you toward them. They will show you where all the instruments are. On your way, take all the power-ups that you can find, such as small clocks to get more time or other boosts that help you win the game smoother.
Hideaway from any fans or paparazzi because if they get you, you will lose precious seconds each time. Go into a storage room or office, and you will go unnoticed by any of them or give them the merch that you have collected to keep them away.
Keep an eye on the timer above you at all times to know when you need to start hurrying. The journey will be difficult to end, but all the Jonas Brothers are counting on you. Help them all the way to the top, and they will surely be very grateful to you.
If you enjoy playing Skyscraper Scramble, you might be excited to find out that there are 78 more Retro games you can try! The most popular is Dave's Castle Hunt, and the most recently added is Sonny With a Chance: So Sketchy