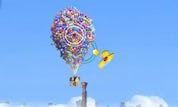 Play Now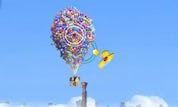 Unfortunately Sky Glider is not available on your device. Please try one of the related games instead or visit our HTML5 category.
About Sky Glider Game
Carl and Russel are having some wonderful time, and they decided to go on the most beautiful adventure together. In Disney Pixar UP: Sky Glider game, you can be a part of the team and fly with them up to the sky to collect some shining stars.
All you need to do is to get ready for adventure and do not be afraid of anything that might happen. Let's go!
How to play the game
Get your mouse, and when the game begins, just click and hold it to blow the balloons from one side to another. You can move your mouse from up to down and from left to right to collect some stars, which will give you extra points. You have to blow the balloons in such a way that at the end they will land on the target pointed out. Be careful because the rocks will stay on your way. If you hit the rocks, they will cause you to crash land.
Another important aspect is to hit every checkpoint ring that appears in your way. If you miss one checkpoint ring, it will make you lose one life. You only have three lives, so be careful. After you lose all of them, you need to get ready to land.
Collect the stars that appear, watch out for the rocks and land safely on the red mark. Carl and Russel will be happy that you managed to get their house on the ground without crashing it.
Do your best to have a high final score at the end of the game.
Good luck!
If you enjoy playing Sky Glider, you might be excited to find out that there are 78 more Retro games you can try! The most popular is Dave's Castle Hunt, and the most recently added is Sonny With a Chance: So Sketchy