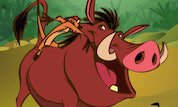 Play Now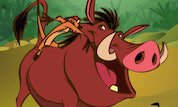 Unfortunately Timon and Pumbaa's Bug Blaster is not available on your device. Please try one of the related games instead or visit our HTML5 category.
This Flash game is loaded using an emulator. If you notice any glitches(such as the game getting stuck or music/sound missing), click to play the original version with NuMuKi Browser for the best experience.
About Timon and Pumbaa's Bug Blaster Game
Timon and Pumbaa are always looking for something to eat. They seem to be hungry all the time. Their favorite food on earth is made out of all kind of bugs. Today they have to deal with bugs too. In The Lion King: Timon and Pumbaa's Bug Blaster game, you need to help them create a chain out of bugs.
A chain can have from three up to four or even more bugs of the same color. Once you create a string, the bugs from the chain will disappear.
If your chain has more than three bugs of the same color, you will collect more points for your final score.
How to play the game
To move Timon and Pumbaa, you need to press the left, and right arrow keys and they will rotate from one side to another. When you are ready to shoot, press the space-bar key and the bugs will be released. Be careful because, in each turn, the bugs will rotate too.
On the left side of the screen, you can see the next color of your bug. When the bugs get over the red ring, you will lose a life. You have three lives to pass the level, and if you do not manage to win, you will have to restart the level again.
You can pass the levels if you make the superbugs disappear. You can do it by blasting them with another bug of the same color.
With every level that passes, you will have more and more bugs to blast. Just keep calm and create the chains you need, and everything will be all right.
If you enjoy playing Timon and Pumbaa's Bug Blaster, you might be excited to find out that there are 78 more Retro games you can try! The most popular is Dave's Castle Hunt, and the most recently added is Sonny With a Chance: So Sketchy