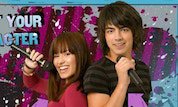 Play Now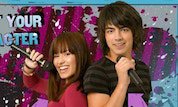 Unfortunately Rock 'N' Run is not available on your device. Please try one of the related games instead or visit our HTML5 category.
This Flash game is loaded using an emulator. If you notice any glitches(such as the game getting stuck or music/sound missing), click to play the original version with NuMuKi Browser for the best experience.
About Rock 'N' Run Game
It is time for the final show in Camp Rock: Rock 'N' Run game but oh no! All the instruments are missing. Help Mitchie and Shane collect them from the maze by guiding them from your keyboard. Are you ready? Then hit Play right away and do not waste any more time.
The aim is to gather all the equipment they need to hold this gig. Choose between the available characters you want to play with, Mitchie or Shane, and start searching.
How to play the game
When you find any gear, just ran over it and your character will collect it automatically. Try to get it as fast as you can to the stage because the time is flying and you won't even notice when it is too late. On your way, do not forget to take as many musical notes you come across because they mean a higher score in the end.
Stay away from those three bad guys, because they will follow you everywhere, so you have to make some smart moves to avoid them in the maze. If they happen to catch you, you will be sent back to the main stage, and you will have to start all over again, in other words, you will waste a great deal of time.
But wait, it can get even worse. If any of the bad guys gets to you while you have an instrument on you, not only that you will be sent back, but you will also lose the gear you were carrying. So outsmart them with your skills and gather all the instrument regardless of their tries to stop you.
Go get them!
If you enjoy playing Rock 'N' Run, you might be excited to find out that there are 78 more Retro games you can try! The most popular is Dave's Castle Hunt, and the most recently added is Sonny With a Chance: So Sketchy