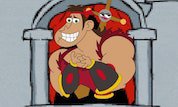 Play Now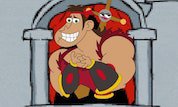 Unfortunately Faffy Zap is not available on your device. Please try one of the related games instead or visit our HTML5 category.
This Flash game is loaded using an emulator. If you notice any glitches(such as the game getting stuck or music/sound missing), click to play the original version with NuMuKi Browser for the best experience.
About Faffy Zap Game
Everyone knows that when you live in a big castle, there is a lot of work to do every single day and the best way to get it done is if you get involved. Today, in Dave the Barbarian: Faffy Zap game, the castle needs an excellent clean, and Dave cannot do it alone.
This is why Faffy decided to help him, but how Faffy is always hungry, he said that he will do it only if there will be some food. So you will have to do two things at once, and that is cleaning and eating. A little bit of work does not hurt anyone, and it can be fun if you do it with your friends.
How to play the game
For cleaning the castle, Faffy needs to burn some objects that look more like garbage, in order to destroy them. At the same time, when there will be food thrown at you, you have to eat it for your energy to increase.
Using the left and right arrow keys move Faffy from one side to another. When you need to destroy the garbage, press the G key and so you will fire a lightning bolt. When Dave the barbarian will give you food, press the F key to unleash Faffy's tongue.
From time to time, Dave will give you some of Uncle Oswidge's potions. Grab them with your tongue to restore Faffy to full energy.
The game will be over when you lose all your energy, and at the end of that, your points will be counted. Try to get as many points as you can and to clean the whole castle.
If you enjoy playing Faffy Zap, you might be excited to find out that there are 78 more Retro games you can try! The most popular is Dave's Castle Hunt, and the most recently added is Sonny With a Chance: So Sketchy