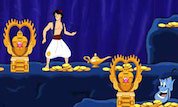 Play Now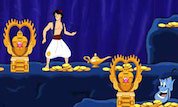 Unfortunately Escape from the Cave of Wonders is not available on your device. Please try one of the related games instead or visit our HTML5 category.
This Flash game is loaded using an emulator. If you notice any glitches(such as the game getting stuck or music/sound missing), click to play the original version with NuMuKi Browser for the best experience.
About Escape from the Cave of Wonders Game
Aladdin is a young man with a heart as big as the entire desert. He has a pure soul, and because of this reason, he was able to get inside the Cave of Wonders. Soon he discovered that there was a trap and now he needs a little bit of help in Aladdin: Escape from the Cave of Wonders game.
The rules of the game are simple. Aladdin needs to get out of the cave and to do it, he has to destroy all the Golden Statues in his way. He will be able to destroy the statues only if he picks up the Genie power-ups. These power-ups will make Aladdin spin like a tornado and destroy the Golden Statues. While he spins, he will also be able to collect the money he founds on his way.
How to play the game
In the cave are also some Gargoyles who will make you lose a life if you do not avoid them. Anyway, if you have the Genie power-up, the Gargoyles will be no problem for you because you will be able to destroy them too.
Be very careful because the Genie power-up does not last for so long; after a few seconds, you will return to your previous form. If you do not get rid of all the Golden Statues before you finish all the Genie power-ups, you will have to restart the level.
To move from left to right, use the left and right arrow keys from your keyboard. To jump press the up arrow key. Be careful at the volcanoes from the cave and avoid the waterspouts. They will make you lose your lives, and you only have five.
You can gain bonus points if you collect the Genie's Lamp. More than that, every second left on the timer at the end of each level will provide you with bonus points.
When all your lives will be over, and the game ends, you will be able to see your final score.
Good luck!
If you enjoy playing Escape from the Cave of Wonders, you might be excited to find out that there are 78 more Retro games you can try! The most popular is Dave's Castle Hunt, and the most recently added is Sonny With a Chance: So Sketchy