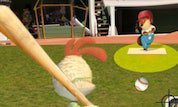 Play Now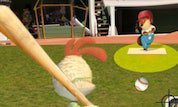 Unfortunately Batting Practice is not available on your device. Please try one of the related games instead or visit our HTML5 category.
This Flash game is loaded using an emulator. If you notice any glitches(such as the game getting stuck or music/sound missing), click to play the original version with NuMuKi Browser for the best experience.
About Batting Practice Game
Chicken Little is a very busy chicken. He likes to do all kind of stuff together with his friends, and today he decided to exercise his skills for a baseball game. Therefore, a little batting practice would be just great. You have the chance to practice along with him in the Chicken Little Batting Practice game and improve your baseball skills outside.
How to play the game
The game is straightforward, and the difficulty is easier than it seems to be. As any baseball fan should know, all you have to do is to pay attention to the ball. When you see it coming to you, hit it with all your power.
Using the mouse move from one side to another and control the bat's position. You will see a black circle and when the ball is precisely on it, press the space-bar from your keyboard to hit it.
The better you manage to kick the ball, the more points you will gain. Be careful not to miss because if you miss hitting the ball many times in a row, you will lose the game and you have to start again.
At the end of the day, when the practice will be over, you will be able to see your final score. If you do well, you can win a special token.
You can decide to practice more anytime and play the game again. Chicken Little knows that only with a lot of practice, you can become the best at something. So, if you want to show everyone that you are the best at this baseball game, you should keep on practicing.
Oh, and one more thing. If you really like baseball games, then you should definitely play Winnie the Pooh's Home Run Derby, which is also fun and challenging!
Good luck and we hope that you will enjoy Chicken Little presence during this game.
If you enjoy playing Batting Practice, you might be excited to find out that there are 78 more Retro games you can try! The most popular is Dave's Castle Hunt, and the most recently added is Sonny With a Chance: So Sketchy