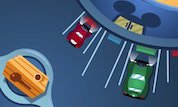 Play Now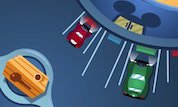 Unfortunately Parking Packers is not available on your device. Please try one of the related games instead or visit our HTML5 category.
This Flash game is loaded using an emulator. If you notice any glitches(such as the game getting stuck or music/sound missing), click to play the original version with NuMuKi Browser for the best experience.
About Parking Packers Game
The House of Mouse is a famous place for all the Disney characters and tonight it looks like everyone is there. The guests come with their cars to enjoy the show, and you have to help Max, the parking valet, do his best and park everyone's cars in the Parking Packers game! The guests are famous characters like Aladdin, or Cinderella and many others.
Help Max to manage the House of Mouse parking!
To park their cars, you need to do five easy steps. The first one is to drag Max near a car when you see it entering in the parking area. When Max is near a car, he will automatically get inside, and two little arrows will appear in front of the vehicle and at its back.
Next, click on the arrows to move the car and drive it in any direction by dragging it with the help of your mouse. The vehicles come in different sizes and colors, and so do the parking areas. Max will get out of the car when you bring the right vehicle in its proper place.
After you get out of the car, you cannot drive another one until you put the car key in Max's booth in the middle of the screen. To do it, drag Max over it and then let the key in its right place from the panel.
What else you should know
When the customers come back after the cars, he or she will appear in a caption, right on the top of your screen. The first thing that you need to do is to return their keys, and then bring their car from the parking place.
Once you have the key, drive the car to the exit in the parking area. Then the client will embark and leave.
To get to the next level, you need to serve a minimum number of clients within a specific time. Move fast and be careful while driving!
Other Games in this Series
If you enjoy playing Parking Packers, you might be excited to find out that there are 48 more Mickey Mouse games you can try! The most popular is Minnie's Dinner Party, and the most recently added is Mickey's Extreme Winter Challenge