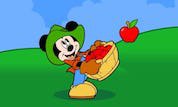 Play Now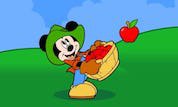 Unfortunately Mickey's Apple Plantation is not available on your device. Please try one of the related games instead or visit our HTML5 category.
This Flash game is loaded using an emulator. If you notice any glitches(such as the game getting stuck or music/sound missing), click to play the original version with NuMuKi Browser for the best experience.
About Mickey's Apple Plantation Game
We all know that an apple a day keeps the doctor away! Mickey Mouse knows the same thing also, and this is why he loves spending time in Mickey's Apple Plantation game. He is a great character who wants to live a healthy life and eating apples from his own plantation is something extraordinary.
Help Mickey to catch the falling apples
Today you can do this too only if you play this little fun game. All you need to do is be careful at the falling apples and move Mickey with your mouse in order to catch as many fruits as you can. Do not let the apples fall down because each falling apple is worth a life and each apple picked is worth one point.
The goal of the game is to collect as many apples as you can in order to have a higher final score at the end of it. At the beginning of the game the apples will fall slowly, but after that, as you collect more of them, they will drop faster and faster so you will need to move quickly in order not to lose any apple.
When you finish the game, you will see your final score, and you will be able to play again if you think that you can beat your own score and do better another time. Play it with your friends if you want and see which one of you is a better catcher. Good luck and do not forget to have fun! In the end, it is all that matters!
If you enjoy playing Mickey's Apple Plantation, you might be excited to find out that there are 48 more Mickey Mouse games you can try! The most popular is Minnie's Dinner Party, and the most recently added is Mickey's Extreme Winter Challenge