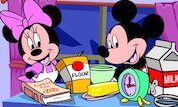 Play Now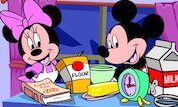 Unfortunately Minnie's Cookie Kitchen is not available on your device. Please try one of the related games instead or visit our HTML5 category.
This Flash game is loaded using an emulator. If you notice any glitches(such as the game getting stuck or music/sound missing), click to play the original version with NuMuKi Browser for the best experience.
About Minnie's Cookie Kitchen Game
Yummy! Can you smell those chocolate cookies? We think that Minnie is cooking again! She is a great cook, and in Minnie's Cookie Kitchen game, you can discover yourself how good she is. Mickey Mouse will assist her and help her cook. They will need you to help them find some ingredients for the cookies.
Help Mickey and Minnie cook delicious treats
At first, you have to bring them the clock to set the right time for the cookies. Minnie and Mickey will tell you systematically what they need, so follow their instruction to do right. When Mickey gets the flour, you have to take the eggs, and this involves you searching for them in the kitchen. They can be on the fridge, or on any other places from the kitchen.
Bring them the butter, some cups for measuring and other important stuff that is necessary for the cookies. For example, to make chocolate cookies, you need chocolate chips. When Minnie finishes mixing up all the ingredients, open the oven and put them to cook. In a short time, your cookies will be ready and, Mickey and Minnie will be able to serve them with a glass full of milk.
If you feel like you want some cookies too, you can help your mom prepare you, following the steps from the game. We are sure that they will be delicious and Minnie will be proud of you. If not, bake the cookies again in the game with Mickey and Minnie and see how they enjoy it!
If you enjoy playing Minnie's Cookie Kitchen, you might be excited to find out that there are 48 more Mickey Mouse games you can try! The most popular is Minnie's Dinner Party, and the most recently added is Mickey's Extreme Winter Challenge