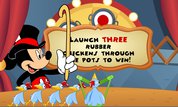 Play Now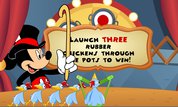 Unfortunately Mickey Mouse - Chicken Pot is not available on your device. Please try one of the related games instead or visit our HTML5 category.
This Flash game is loaded using an emulator. If you notice any glitches(such as the game getting stuck or music/sound missing), click to play the original version with NuMuKi Browser for the best experience.
About Mickey Mouse - Chicken Pot Game
The fair is in town! Mimicking the charming atmosphere of an old-time carnival, the Mickey Mouse - Chicken Pot game is sure to get you back to the days of throwing hoops and tossing balls! The design and decor of the game are very festive, as you get to enjoy sophisticated red and gold curtains and bright lights. Even your host, Mickey Mouse, is donning an appropriate outfit - a fancy top hat and a cane!
As the title suggests, all you need to do is launch the rubber chicken in the pots, placed on a rotating target. First of all, carefully tilt the angle of the slingshot by moving your cursor, and then launch the chicken towards the pot with a simple left-click. Each time you succeed, the red lid of the pot will open, accompanied by a satisfying sound.
Aim the target as accurately as possible
Be warned, you need to hit the target three times in order to finish the game, and you only get five opportunities to do so! So aim cautiously and don't get hasty! Only the chicken launched from the right angle and at the right time will reach the pots! As soon as you hit the target three times, a dialog appears, and the game is over - you win!
This simple, yet pleasant and entertaining game is sure to make you smile and even teach you a thing or two about precision and timing. Don't get discouraged if you don't succeed at first, as you very well know practice makes perfect!
Have fun!
If you enjoy playing Mickey Mouse - Chicken Pot, you might be excited to find out that there are 48 more Mickey Mouse games you can try! The most popular is Minnie's Dinner Party, and the most recently added is Mickey's Extreme Winter Challenge