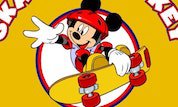 Play Now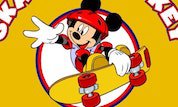 Unfortunately Skating Mickey is not available on your device. Please try one of the related games instead or visit our HTML5 category.
This Flash game is loaded using an emulator. If you notice any glitches(such as the game getting stuck or music/sound missing), click to play the original version with NuMuKi Browser for the best experience.
About Skating Mickey Game
Mickey has learned some new tricks with his skateboard, and now he wants to share it with you in the new Skating Mickey game. He took his skateboard and now, with your help he will perform some cool moves.
There are three buttons, which once pressed, Mickey Mouse will know what tricks to do. You can also do combos of moves, and it will make Mickey earn even more points. If you click on the first button, he will perform a handplant. The second button will help Mickey do a frontside grab. When you use the last button, Mickey will show you a rail slide.
Perform combos to get more points
To do combos, you have three options. The first one is to combine the second and third buttons. Another combo is formed from button number two and then button number one. The last combo consists of all the buttons pressed at once. You have to push button number two, then number three and after that the first one. This combo will bring you the most points.
After you have learned how to do the tricks and how to use the combos, click on Mickey when you are ready. From that moment on, you have exactly sixty seconds to do your best and collect as many points as possible. When the time is up, you can try again to gain even more points. The only sure thing is that you will feel great while you are on this adventure and you will see that Mickey has fun too.
Skate on!
If you enjoy playing Skating Mickey, you might be excited to find out that there are 48 more Mickey Mouse games you can try! The most popular is Minnie's Dinner Party, and the most recently added is Mickey's Extreme Winter Challenge