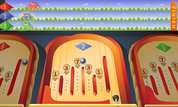 Play Now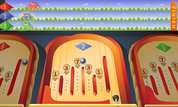 Unfortunately Mickey & Friends' Rabbit Race is not available on your device. Please try one of the related games instead or visit our HTML5 category.
This Flash game is loaded using an emulator. If you notice any glitches(such as the game getting stuck or music/sound missing), click to play the original version with NuMuKi Browser for the best experience.
About Mickey & Friends' Rabbit Race Game
Have you ever wanted to try an old-fashioned funfair game? Here is your chance, with the Mickey & Friends' Rabbit Race game! Give this one a try and enjoy a thrilling bunny race in a charming, old-fashioned decor. The fun, bright colors and exciting sound effects will be sure to draw you in! What is more, you have Clarabelle, one of Minnie's best friends, to cheer you on, while dressed in a festive outfit.
The concept of the game is easy to grasp. You are instructed to click on the plunger on the right side of your board and then pull it, in order to shoot the silver ball. How much you pull on the plunger adjusts the force of your shot.
How to play the game
Just like in a game of pinball, the goal is to propel the ball on the board, which is divided into five different lanes. Depending on which lane your ball travels through, you score seven, three, or five points. The number of points you score controls how much your bunny gets to move forward. The trick is to aim for the middle lane and try to hit it as often as you can to score seven points and get ahead of your opponents. Above your board, you can watch the rabbit race as it unfolds.
Don't forget that you control the adorable blue bunny in the middle lane, marked with the number two! Beat the other two opponents, by launching your ball with speed and precision. The first bunny to reach the finish line wins!
Do you have a soft spot for the atmosphere of an old-time carnival? Are you a very skilled pinball player? Do you simply want to kick back and relax with a simple, fun game? If you answered yes to any of these questions, then you shouldn't miss out on this entertaining game!
Have fun
If you enjoy playing Mickey & Friends' Rabbit Race, you might be excited to find out that there are 48 more Mickey Mouse games you can try! The most popular is Minnie's Dinner Party, and the most recently added is Mickey's Extreme Winter Challenge