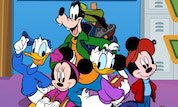 Play Now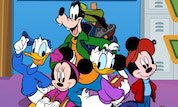 Unfortunately School's In Session is not available on your device. Please try one of the related games instead or visit our HTML5 category.
This Flash game is loaded using an emulator. If you notice any glitches(such as the game getting stuck or music/sound missing), click to play the original version with NuMuKi Browser for the best experience.
About School's In Session Game
The summer is over, and school started in Disneyland. Mickey and his friends have to sit some essential exams now. During the School's in Session game, you have to help them resolve all the problems correctly and get some excellent grades! Do not worry, it is not that hard and who knows, maybe you will have fun while doing it.
The teachers have prepared three sessions of exams that you need to do. The first one is Shape Stumper, the second is Math Mania, and the last one is Finders Keepers. You may start with whichever one you like more, as long as you do a great job.
Test your attention and mind skills with the mini-games
In Shape Stumper mini-game, you will see different school object without one part, and you need to guess which part is missing, according to its shape. You will have to choose between three different options the one that fits best. Be quick because if you guess before the time runs out, every second will be added to your final score. You have twenty tries, and in the end, you will get a grade so you can see how good you did.
In Math Mania mini-game, you will confront with numbers. Resolve the equations and guess the right answer in a short time. The same rule applies here too. The faster you are, the more points you get at the end!
The last assignment, Finders Keepers consist in seeing some images, and you need to pick the object that appears for the most times. Be careful because the objects will start moving once you get through the levels. When you finish this assignment, you will be able to see your final score, and if you want, you can play it again and do even better.
If you enjoy playing School's In Session, you might be excited to find out that there are 48 more Mickey Mouse games you can try! The most popular is Minnie's Dinner Party, and the most recently added is Mickey's Extreme Winter Challenge