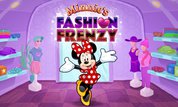 Play Now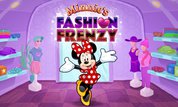 Unfortunately Minnie's Fashion Frenzy is not available on your device. Please try one of the related games instead or visit our HTML5 category.
About Minnie's Fashion Frenzy Game
Step into the world of fashion with the Minnie's Fashion Frenzy game! All-day long, you will be able to explore everything that you want to know about the most interesting subject that a girl can ever imagine. It's well known that Minnie Mouse loves fashion and clothes more than anything. In this game, you will discover her beauty secrets and see how she is living her life.
The game requires you to pay attention to the fashion items you will work with and the customers entering Minnie's shop. On your screen, you will see some clothing pieces in different colors and shapes. Some of them can be dresses, or bags, shoes, hats, or sunglasses. You need to match three or more objects of the same color in a row by swapping their places.
Match the customers' preferences
The customers that come into your shop have different colors too. If a customer is dressed up in red, he wants to buy a red bag, so you need to match some red bags to sell them.
When a customer reaches the display counter, it means that he gets angry and he will leave the shop. Avoid this and make sure everyone is enjoying the time spent in your shop.
You can reach the next day and pass the level if you succeed in keeping all the customers happy until the time runs out and the clock reaches zero.
Do not forget that fashion is one of the most important things for a girl. Minnie trusts you to manage with her shop. Good luck selling your best products!
If you enjoy playing Minnie's Fashion Frenzy, you might be excited to find out that there are 48 more Mickey Mouse games you can try! The most popular is Minnie's Dinner Party, and the most recently added is Mickey's Extreme Winter Challenge