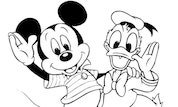 Play Now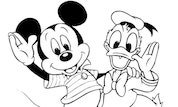 Unfortunately Disney Coloring Book is not available on your device. Please try one of the related games instead or visit our HTML5 category.
This Flash game is loaded using an emulator. If you notice any glitches(such as the game getting stuck or music/sound missing), click to play the original version with NuMuKi Browser for the best experience.
About Disney Coloring Book Game
The wonderful world of Disney needs a little bit of color these days, and with the Disney Coloring Book game, you can be the one who brings joy and color to a world full of magic. To do that, get your brushes and your imagination with you, and start working.
Use your imagination to paint Mickey Mouse and Donald Duck
On your screen, there will appear a picture of Mikey Mouse and Donald and a set of colors. Using your favorite colors start giving life to some of the most beloved Disney characters that exist. You can paint them with the typical colors they usually wear, or you can be creative and come up with some incredible and brand new characters. All it takes is a little bit of imagination from you and let the magic begin.
One of the best parts is that you have no passing time and you can take all the time in the world to do it. If you plan to become known for your pieces of art that you create online, you can print the coloring image at the end of the game. This way, you will assure that everyone will notice your talent.
By playing this game, you will be able to be a part of the magic Disney world. We are sure that you would love this thing and that you have always dreamt of living in such a beautiful world. Now it is possible only if you take some time to play this game.
Let us know what do you think about it and have fun while spending time with Mickey and Donald!
If you enjoy playing Disney Coloring Book, you might be excited to find out that there are 48 more Mickey Mouse games you can try! The most popular is Minnie's Dinner Party, and the most recently added is Mickey's Extreme Winter Challenge