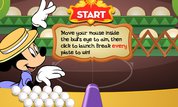 Play Now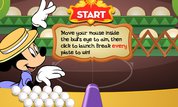 Unfortunately Mickey & Friends' Plate Game is not available on your device. Please try one of the related games instead or visit our HTML5 category.
This Flash game is loaded using an emulator. If you notice any glitches(such as the game getting stuck or music/sound missing), click to play the original version with NuMuKi Browser for the best experience.
About Mickey & Friends' Plate Game Game
Welcome to the fair, a truly magical place where you can play fun and exciting games, such as Mickey & Friends' Plate Game! Minnie, playing the role of a charming host, will guide you through this classic carnival game, which will test your aim and precision. Enjoy the playful atmosphere and try your best to hit all the targets in order to win!
As is the case with most games at the funfair, the rules you have to follow are quite straightforward: launch the baseballs using the cannon, in order to hit the plates on the rack. You can do so by moving your mouse inside the bull's eye in order to adjust the angle of the cannon, and then left-click to launch the baseball towards your target.
Try to aim as precisely as possible
Use the arrows around the bull's eye to make your throw more precise. Be careful! The racks of plates are always moving, and you only have 12 balls. In order to win, you need to hit all the targets without running out of balls. Don't forget that you can break multiple plates at a time, as this might help you if you are running out of ammo!
So, if you ever wanted to break the dishware without the guilt and the clean-up, this is the game for you! It is sure to help you kick back and relax, and even help you practice your ability to aim with care and precision. Enjoy the delightful Disney atmosphere with your favorite characters, at Mickey's magical carnival!
If you enjoy playing Mickey & Friends' Plate Game, you might be excited to find out that there are 48 more Mickey Mouse games you can try! The most popular is Minnie's Dinner Party, and the most recently added is Mickey's Extreme Winter Challenge