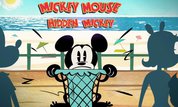 Play Now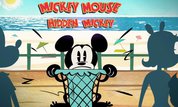 Unfortunately Mickey Mouse Hidden Mickey is not available on your device. Please try one of the related games instead or visit our HTML5 category.
About Mickey Mouse Hidden Mickey Game
Are you sneaky and agile? Then you can help Mickey reach the end of the level in the Hidden Mickey game. As he was trying to get a burger on a hot summer day at the beach, our favorite mouse ended up losing all of his clothes! Now he has to hide behind objects to avoid being seen while collecting the food and coins. You are sure to enjoy the beautiful, hand-drawn design of the game and the charming details of the decor!
The gameplay is simple but requires a lot of speed and attention to detail on your part! To move, you have to activate the hiding spots, such as trash bins, ice cream trolleys, or even palm trees, that you can travel up and down on. Keep an eye out for the more whimsical hiding areas, such as characters walking their dog or carrying a surfboard. They might come in handy when you find yourself in a rough spot!
Try to disguise as better as possible!
You will need to put all of your stealth into play, as the goal is to avoid being seen! The characters who spot you will make fun of you, and your health bar will decrease. Be careful! Some enemies, like Goofy and Pete, can see you even when you are hidden. You can distract them by throwing a beach ball, but you only have one, so use it wisely!
The game ends when you run out of health, and you will need to start over. Plan your route with great care to make sure you find your food and collect all the coins, as you cannot reach the next level otherwise!
Enjoy a fun day at the beach with Mickey and his friends while practicing your stealth and agility with this thrilling game! The atmosphere is sure to draw you in, while the easy controls and challenging gameplay will keep you glued to the screen.
If you enjoy playing Mickey Mouse Hidden Mickey, you might be excited to find out that there are 48 more Mickey Mouse games you can try! The most popular is Minnie's Dinner Party, and the most recently added is Mickey's Extreme Winter Challenge