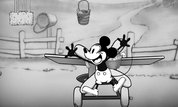 Play Now
About Spin and Stack Game
Start playing the Mickey's Spin & Stack game for yet another Mickey Mouse adventure! Life on the farm can be wonderful. Beautiful views, fresh air, lots of animals, and healthy foods surround you. Mickey and Minnie have planned a perfect date at the farm, and they are ready to take their plane for a spin. Unfortunately, Pete has his eye on them, and he is planning to destroy their fun.
You have to stop Pete and his evil plan at all costs! Pete tied up Mickey on the plane's propeller, and he started to ruin the farm by throwing things everywhere. Mickey needs to catch all these objects, but he cannot do this by himself. Are you willing to help him?
How to play the game
As Mickey is tied up, you need to press the Left or the Right arrow keys to spin him from one side to another. You will catch the items on Mickey's arms or legs. You can stack three of the same things on the same limb, so you get a higher score.
Collect the boxes with vegetables, the wheels, the bells, the ropes, the baskets with the chicks, or the horseshoes. Avoid as much as you can the garden forks, the pigs, the baskets with eggs, the haystacks, or the anvils. Those things will make you drop the proper items. Also, watch for the bonus items, which will give you extra points or speed.
Be careful because you cannot catch two different items on the same limb, even if they are both useful. If you try to do this, all the pieces will fall down, and you have to start the game again.
Have fun!
If you enjoy playing Spin and Stack, you might be excited to find out that there are 48 more Mickey Mouse games you can try! The most popular is Minnie's Dinner Party, and the most recently added is Mickey's Extreme Winter Challenge