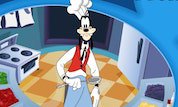 Play Now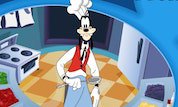 Unfortunately Goofy's Frenzy Kitchen is not available on your device. Please try one of the related games instead or visit our HTML5 category.
This Flash game is loaded using an emulator. If you notice any glitches(such as the game getting stuck or music/sound missing), click to play the original version with NuMuKi Browser for the best experience.
About Goofy's Frenzy Kitchen Game
Yummy! What smells so good? We believe that it is from the Goofy's Frenzy Kitchen game. The smell is appealing, and we bet it tastes delicious. However, what is Goofy cooking? He is preparing great meals for all the Disney characters. Anyway, he needs a little bit of help because there are many people waiting in line and he cannot serve everyone by himself. Would you help him?
How to play the game
You need to do two simple things to help Goofy. You have to pay attention to what someone asks for and prepare their meal by clicking on the ingredients right in the order that they shine the first time. If you put them on the plate in some other sequence, a red sign will appear, and you will have to take everything from the beginning.
When you run out of food, go to the fridge and click on the things you need. Goofy will fill you up, and you will be ready to go again. Be careful when you need to use the cooker. Do not forget to press on it too when needed.
If you give food to everyone, the people will be happy, and this will make Goofy feel good. He loves helping others and seeing his friends happy. Moreover, considering that food is something that makes everyone happy, he just found the perfect recipe to have satisfied friends by his side all the time.
With every level that passes, things get harder but do not worry, stay calm and be focused on the food you have to serve!
Other Games in this Series
If you enjoy playing Goofy's Frenzy Kitchen, you might be excited to find out that there are 48 more Mickey Mouse games you can try! The most popular is Minnie's Dinner Party, and the most recently added is Mickey's Extreme Winter Challenge