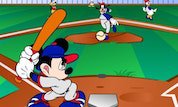 Play Now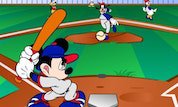 Unfortunately Disney Bases Loaded is not available on your device. Please try one of the related games instead or visit our HTML5 category.
This Flash game is loaded using an emulator. If you notice any glitches(such as the game getting stuck or music/sound missing), click to play the original version with NuMuKi Browser for the best experience.
About Disney Bases Loaded Game
As you already know, Mickey Mouse is a huge fan of sports and team games. Disney Bases Loaded game is another fun way of spending time together with his best friends and today you can join him for a great match. If you have not played baseball until now, do not worry. It is easier than it seems or sounds.
Play Baseball with Mickey Mouse and his friends
The game consists of hitting the ball at the right time in order to make it fly. In the game that Mickey plays, you need to know that at the moment when Goofy pitches the ball to Mickey, you have to be very careful. A target will appear around the ball, and when you see it, you have to click on it. If you do this at the right time, you will earn some points, which will matter for your final score.
One thing that you need to keep in mind is the fact that your team has only three outs, with three strikes per player. It means that if you do not hit the ball at the right time, you will lose points. More than that, you can earn bonus points for all the players on a base that you bring home while hitting a home run. If the bases are loaded, it means that there are even more points for you to collect and this is only good news.
Therefore, after all, playing baseball with your friends is not such a hard thing to do. You only need to have fun and relax a little bit. And if you are a real fan of Baseball, then you should also play Winnie the Pooh's Home Run Derby game. It is quite exciting and challenging, and you will love it!
Have fun!
If you enjoy playing Disney Bases Loaded, you might be excited to find out that there are 48 more Mickey Mouse games you can try! The most popular is Minnie's Dinner Party, and the most recently added is Mickey's Extreme Winter Challenge