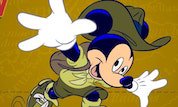 Play Now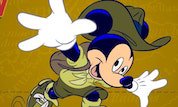 Unfortunately Mickey Mouse in the Lost Treasure of Maroon is not available on your device. Please try one of the related games instead or visit our HTML5 category.
This Flash game is loaded using an emulator. If you notice any glitches(such as the game getting stuck or music/sound missing), click to play the original version with NuMuKi Browser for the best experience.
About Mickey Mouse in the Lost Treasure of Maroon Game
Mickey has a critical mission to do today. He is in an adventure like never before. While playing Mickey Mouse in The Lost Treasure of Maroon game, you need to help him reach the lost treasure of Maroon, without hurting himself.
Mickey has a few lives, and if he hurts himself, you will have to start over the level. You can activate some things from the road if you click on them, and you must drag and drop other objects, to make Mickey's way more comfortable.
Pay attention to details and come up with solutions
There are many traps on the way to the lost treasure, and if you do not pay attention to every detail, Mickey will fall in one of them, and he will get hurt. We certainly do not want this thing to happen because he is our adventurer friend. To succeed in this mission, you need to be as brave as Mickey is. Do not let him fall and return home with nothing.
Mickey is going to be a hero if he manages to find the lost treasure of Maroon because no one ever did this thing. If you think that you have what it takes to be a hero and an adventurer, then do not waste any more time and be a part of Mickey Mouse's team. Who knows what beautiful things you will discover on the road and how much fun you will have if you go to find the lost treasure of Maroon with Mickey?
Good luck, and do not give up on the first time. The road may be hard, but the end is for sure worth it.
If you enjoy playing Mickey Mouse in the Lost Treasure of Maroon, you might be excited to find out that there are 48 more Mickey Mouse games you can try! The most popular is Minnie's Dinner Party, and the most recently added is Mickey's Extreme Winter Challenge