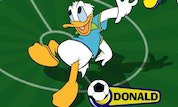 Play Now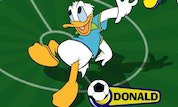 Unfortunately Football Frenzy is not available on your device. Please try one of the related games instead or visit our HTML5 category.
This Flash game is loaded using an emulator. If you notice any glitches(such as the game getting stuck or music/sound missing), click to play the original version with NuMuKi Browser for the best experience.
About Football Frenzy Game
Football Frenzy game tests your ball bouncing skills. You can choose between two protagonists: Mickey Mouse and Donald Duck. No matter which character you choose, you will have the same goal, which is: Bounce the ball as many times as possible in one run.
Once you start bouncing the ball, the counter will track how many times you managed to keep it in the air before it drops on the floor. When the ball drops on the floor, the counter stops counting and sets your record on the board. Afterward, a new counting sequence will start.
If in one of the next tryouts you manage to achieve a higher score, your new ball bouncing record will be memorized on the board. The counter always resets after you drop the ball on the ground.
Keep the ball in the air for as long as you can!
You only need to use your MOUSE to control either Mickey Mouse or Donald Duck (depending which character you chose to play with) around the soccer playfield. While navigating your preferred player, as soon as you get close to the ball, he will automatically start bouncing the ball while the counter will count every bounce.
If you move a character to the side, the ball will go on its own path so you'll have to chase the ball around the playfield. Your hands must be steady and precise to avoid losing the ball and letting it bounce all around the playfield.
This game is entertaining and enjoyable, recommended for younger audiences.
If you enjoy playing Football Frenzy, you might be excited to find out that there are 12 more Donald Duck games you can try! The most popular is Pillow Fight, and the most recently added is Silly Solve and Search