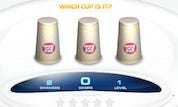 Play Now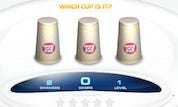 Unfortunately Cup Shuffle is not available on your device. Please try one of the related games instead or visit our HTML5 category.
This Flash game is loaded using an emulator. If you notice any glitches(such as the game getting stuck or music/sound missing), click to play the original version with NuMuKi Browser for the best experience.
About Cup Shuffle Game
WALL-E wants to play Cup Shuffle game with you! Join him, if you think, you have excellent observation skills, as WALL-E has. He promises that this is not going to be very easy, so prepare to use your brain!
WALL-E got his quick eye, while spent many years on the abandoned Earth looking for any things worth being collected, even the super tiny ones. He got used to looking around carefully.
We hope you don't have such a sorrowful experience, like being left on a planet alone. But who knows, maybe you have some kind of observation skills that you developed during some other type of tough times. So, are you in? WALL-E and his best friend Hal are ready to start!
How to play the game
Hal is an extremely resistant cockroach. He managed to survive on the Earth precisely due to that trait. Hal is following WALL-E in any place the robot heads since they met up. Now Hal is going to hide under cups, as WALL-E shuffles them. Your task is to find him under the cups!
First, WALL-E will show you which cup Hal is under. Then he will start shuffling them. You should follow the cup that Hal in under and not lose track of Hal whatever happens! After WALL-E finishes with randomly switching the cups, click the cup you think Hal is hiding under. Time to see if you're right!
There five stages to pass. Find Hal two of three times to complete each level. Find Hal all the three times and earn extra points. Be careful not to miss Hal twice; otherwise, you will have to start the game all over! After you pass all the levels successfully, an exclusive video will be unlocked!
Have fun!
If you enjoy playing Cup Shuffle, you might be excited to find out that there are 14 more WALL-E games you can try! The most popular is Trash Tower, and the most recently added is The Video Game