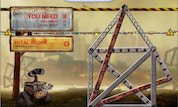 Play Now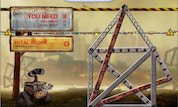 Unfortunately Trash Tower is not available on your device. Please try one of the related games instead or visit our HTML5 category.
This Flash game is loaded using an emulator. If you notice any glitches(such as the game getting stuck or music/sound missing), click to play the original version with NuMuKi Browser for the best experience.
About Trash Tower Game
In Wall-E: Trash Tower game, you need to remove as many beams as possible from the given construction in order to get points and advance to the next level. However, there's one additional thing you have to be aware of: Hal, the cockroach, is located at the top of the construction, so you need to pay extra attention when deciding which beams to remove in order to keep the structure still stable and prevent Hal from falling on the electrical wire!
How to play the game
You need to remove a certain number of beams in each stage in order to unlock the next one! If the construction starts to collapse and fall before achieving enough points to pass the level, the game will be over. On the other hand, once you successfully managed to obtain the necessary points for accomplishing the level, you can still try to remove even more beams and gain extra points!
This is a very intuitive game in which you need to think before you act. To be able to finish each level successfully, you need to decide where and why to click carefully. Every level requires you to remove a certain number of beams from the construction. You need to look carefully and select which parts will have a lesser impact on the entire structure, so it can hold steadily as possible.
The number of beams needed to be removed from the construction is given at the scoreboard in the upper left corner of the screen. You need to use your MOUSE to move the cursor and MOUSE BUTTON 1 to click and select the beams you wish to remove.
There are ten levels in total in this game and score counts throughout the entire gameplay. When you finish all the levels, you'll get a Wall-E bonus video.
Enjoy this fun and very addictive game!
If you enjoy playing Trash Tower, you might be excited to find out that there are 14 more WALL-E games you can try! The most popular is Space Escape, and the most recently added is The Video Game