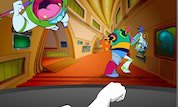 Play Now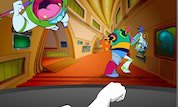 Unfortunately Buzz Lightyear Space Ranger Training is not available on your device. Please try one of the related games instead or visit our HTML5 category.
This Flash game is loaded using an emulator. If you notice any glitches(such as the game getting stuck or music/sound missing), click to play the original version with NuMuKi Browser for the best experience.
About Buzz Lightyear Space Ranger Training Game
Ready to join Buzz Lightyear for another incredible adventure? Then hop right in because the Buzz Lightyear of Star Command: Space Ranger Training game will be a perfect way to relax and have fun by helping Buzz complete his mission.
Buzz Lightyear is the character from the well-known animated movie Toy Story, and along with his friend Woody, is one of the most popular cartoon characters around the world. Since Andy got Buzz for his birthday, Buzz has been unstoppable, and his bravery is immense and immeasurable. Now, Buzz wishes to become a Space Ranger, and you can help him accomplish this by making it easier for him to complete his training successfully.
How to play the game
Your mission is to click on Buzz's enemies when they appear on the screen and fire at them when you are confident that you would destroy them. You need to practice until you have a perfect aim for this task. You have to obtain at least 350 points to complete each of the three levels and move on to the next one.
However, your foes are not the only ones who will appear in front of you. Every now and then, some of your friends from the Star Command will also show up. You need to make sure not to shoot any of your fellows and that is why you need a lot of focus and precision to win this game. Take a close look at the picture of your friends and enemies before you start playing because you need to be able to distinguish between them at all times. You need to stay strong and not let Zurg and the Hornets win this time.
Useful tips
Also, you will need to reload your ammo supply at times by clicking on the button at the top of your screen, so pay close attention to that as well. Your time is limited so you will need fantastic time management skills to achieve your goal and help Buzz become a Space Ranger.
Do you think you have got what it takes to come out as the winner of this game? Buzz is impatiently waiting for you, and he is ready to start his mission!
If you enjoy playing Buzz Lightyear Space Ranger Training, you might be excited to find out that there are 20 more Toy Story games you can try! The most popular is Woody to the Rescue, and the most recently added is Woody's Wild Adventure