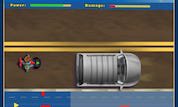 Play Now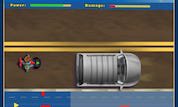 Unfortunately Catch that Moving Van is not available on your device. Please try one of the related games instead or visit our HTML5 category.
This Flash game is loaded using an emulator. If you notice any glitches(such as the game getting stuck or music/sound missing), click to play the original version with NuMuKi Browser for the best experience.
About Catch that Moving Van Game
There was not a single day without a crazy venture for the Toy Story gang. Fortunately, all their dangerous adventures used to end up fine, due to their friendship, team spirit, and positive attitude. Toy Story friends never miss their luck! But what's happening? Seems like the moving van is leaving the place and the gang is up for another mysterious and crazy adventure in Catch that Moving Van game. The group will have a new home soon!
But wait, Sheriff Woody and Buzz Lightyear are left behind! They were too late to hop into the van, and the van departed without them. And now it's leaving them behind. What are they going to do? As we said, the guys from Toy Story never miss the luck, especially when it comes to Woody and Buzz! They have an electric car! Woody and Buzz are going to have another dangerous adventure: they will have to drive the small electric car on a crowded highway until they manage to reach the leaving van!
Put your fast driving skills into practice!
Slink is hanging out of the back of the truck to help them to climb inside, so all they need is to catch up the van. You're the only one who can help Woody and Buzz to reunite with their friends! Take control over the electric car and help them to reach the van. All you need to do is to drive as fast as possible!
Avoid cars and hazards: you will lose damage points if you hit them. Watch the power scale and try not to miss the batteries on your way. The electric car will stop, and Woody and Buzz will never see their friends again if you run out of power! Drive over Power-Ups to go faster. Good luck!
If you enjoy playing Catch that Moving Van, you might be excited to find out that there are 20 more Toy Story games you can try! The most popular is Woody to the Rescue, and the most recently added is Woody's Wild Adventure