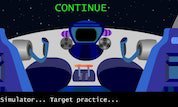 Play Now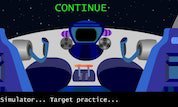 Unfortunately Buzz Lightyear Target Practice is not available on your device. Please try one of the related games instead or visit our HTML5 category.
This Flash game is loaded using an emulator. If you notice any glitches(such as the game getting stuck or music/sound missing), click to play the original version with NuMuKi Browser for the best experience.
About Buzz Lightyear Target Practice Game
Hope you are all set because we are flying high up into space with Buzz Lightyear for yet another fantastic mission! Playing Buzz Lightyear: Target Practice game will not only help you have an incredible time, but it will also develop your skills and focus. This time you need to help Buzz practice his target shooting so he can learn to defeat his enemies more easily.
As you know, Buzz is quite confident and courageous, and he will be by your side to show his support. Let's finish our mission successfully and tell Woody all about it afterward, shall we?
Do this by using your mouse to fire at only the villains that you see in front of you by clicking on them. You will have to shoot different well-known villains which you might have already heard of from the Toy Story TV Series. Let's mention some of them.
Shoot as many villains as possible
One of them is Emperor Zorg, one of the biggest enemies of the Galactic Alliance and of Buzz Lightyear himself. Another one is Warp Darkmatter, Buzz's former friend and companion who chose to join the dark side. The last ones are Hornets, Zorg's robot army and Grubs, Zorg's cowardly little helpers. Make sure not to hit Buzz or Mira, because this will negatively affect your health bar and get you further away from your goal.
Once you have reached 50 points, it will be announced that your mission has been a success. Make sure you stay focused until the objective is accomplished. You have to be incredibly fast and have good reaction time because if you fail to shoot the villains with your powerful laser beam, they will just disappear from your screen.
You have to prepare Buzz for real life fighting by completing this mission in the best way you can and by staying alert until the very end. Do you think you are the chosen one who will help Buzz out on his space mission? If the answer is yes, then start playing this fun game right away and activate your grey cells!
If you enjoy playing Buzz Lightyear Target Practice, you might be excited to find out that there are 20 more Toy Story games you can try! The most popular is Woody to the Rescue, and the most recently added is Woody's Wild Adventure