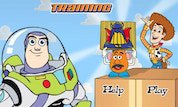 Play Now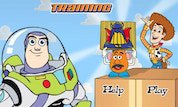 Unfortunately Space Ranger Training is not available on your device. Please try one of the related games instead or visit our HTML5 category.
This Flash game is loaded using an emulator. If you notice any glitches(such as the game getting stuck or music/sound missing), click to play the original version with NuMuKi Browser for the best experience.
About Space Ranger Training Game
Join us in another adventure featuring your favorite heroes from the Toy Story Franchise and play Buzz Lightyear: Space Ranger Training game. In this game, Buzz the Space Ranger is trying to sharpen his aiming and shooting skills. Can you help him?
Use your MOUSE to move around the screen and aim the targets. Use the MOUSE BUTTON 1 to shoot (zap!) at the targets. Every now and then you may notice some red arrows on the edges of the screen. Go with your mouse cursor over it, and it will lead you to another area in the room. If the red arrow is flashing, that means you need to hurry up to that area because your targets showed up there.
Quickly identify the targets you need to shoot
Your friend Woody the Cowboy and others will hold the targets for you to shoot them. But be aware that if you see your friends without anything in their hands DO NOT SHOOT (ZAP!). Shoot only at the friends who are holding the target. If you shoot a fellow who is not holding any mark, you will lose points.
Move around the areas in search of targets and do your best to hit as many targets as possible to achieve every level's goal. Each new level will get increasingly difficult, and the number of targets that you need to shoot to accomplish it will also get bigger. As far as the time concerning limitations, you have only 90 seconds to hit the targets in each level.
You can hit your friends that aren't holding a target 5 times, but try not to. It's not good shooting at friends, even in a practice mode. This game is fantastic for high focusing and hand-mind sensitivity testing. Enjoy the zapping!
If you enjoy playing Space Ranger Training, you might be excited to find out that there are 20 more Toy Story games you can try! The most popular is Woody to the Rescue, and the most recently added is Woody's Wild Adventure