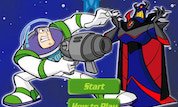 Play Now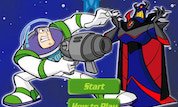 Unfortunately Buzz Lightyear's Galactic Shootout is not available on your device. Please try one of the related games instead or visit our HTML5 category.
This Flash game is loaded using an emulator. If you notice any glitches(such as the game getting stuck or music/sound missing), click to play the original version with NuMuKi Browser for the best experience.
About Buzz Lightyear's Galactic Shootout Game
Buzz Lightyear is getting ready for another mission, and he needs your help to win! Are you in the mood to help one of the most incredible cartoon characters in history? If you are, it is the perfect time to start playing Buzz Lightyear's Galactic Shootout game!
Your goal in this game is to obtain the highest score possible by firing your gun at the foes who will appear on the screen in front of you. You will recognize Buzz's enemies such as the Hornets and Grubs, which you need to shoot as quickly as you can before they start shooting at you! Right, some of them carry guns and might fight back as well.
Use your mouse to control the shot and to aim at a specific target. Make sure you achieve the perfect aim though because you do not want to miss your enemy and end up being shot instead. Just click your left mouse button to fire when you consider your aim to be excellent.
Useful tips
You should also know that being shot will affect your health bar negatively, so try to avoid it at all costs. It is of crucial importance to pay attention to the little green man and not shoot him when he appears on your screen because this will also cost you some life points. If your health bar runs out, the game will be over, and your mission will not be completed. However, if you finish every level successfully, you will be promoted and get a higher rank.
Make sure you collect the space bombs, which you can activate by pressing your space bar, if you want to wipe out all the enemies currently present on your screen and life capsules if you wish to restore your health after being shot. Do you think you have the skills necessary to help Buzz achieve his goal? Join him and find out!
If you enjoy playing Buzz Lightyear's Galactic Shootout, you might be excited to find out that there are 20 more Toy Story games you can try! The most popular is Woody to the Rescue, and the most recently added is Woody's Wild Adventure