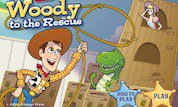 Play Now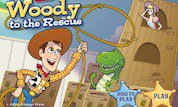 Unfortunately Woody to the Rescue is not available on your device. Please try one of the related games instead or visit our HTML5 category.
This Flash game is loaded using an emulator. If you notice any glitches(such as the game getting stuck or music/sound missing), click to play the original version with NuMuKi Browser for the best experience.
About Woody to the Rescue Game
Woody is a cowboy from the Toy Story franchise. He never ceases to get into mixed-up adventures. This time, he is the main character in the Woody To The Rescue game.
This is a love game. Love, danger, and adventure. Woody, the cowboy, must save Bo Peep who's captured in the tower in Andy's room. The tower is three stories high, and Woody is pretty much far from the tower, so he needs to reach the tower by swinging on his lasso.
Reaching the tower and the love of you toy-life isn't as easy as it might seem. Woody must throw his lasso in the air to connect it to a secure spot, and only then he can swing on it. Luckily, that part is automated, so you don't have to worry about it. When his lasso is securely connected to the top of the screen, you must use your keyboard direction arrow keys to swing Woody LEFT and RIGHT.
Control Woody by using the lasso
While you press the LEFT and RIGHT keys, Woody will swing harder and harder. Try not to overdo it because lasso might break. When you reach the point where you would like to jump from the rope into the window to reach Bo Peep, just press the space-bar on your keyboard.
Once you're in the tower, try to figure out which is the correct window you should follow. There are three windows. One is a way to Bo Peep. Another is the way to the sheep which you shouldn't be scared of since you'll lose points if you do. The third window is empty, so try to avoid it. You have 15 tries, and you must reach Bo Peep at least five times to complete the level.
If you enjoy playing Woody to the Rescue, you might be excited to find out that there are 20 more Toy Story games you can try! The most popular is Disney Golf, and the most recently added is Woody's Wild Adventure