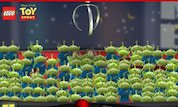 Play Now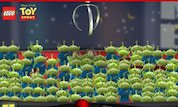 Unfortunately The Claw is not available on your device. Please try one of the related games instead or visit our HTML5 category.
About The Claw Game
Come on in and try another funny online game featuring Toy Story characters: The Claw game. In this game, Lego and a real robot machine meet each other! Remember these mysterious robots full of toys and some other interesting stuff that no one can beat up, as you heard? Have you ever tried playing a robot machine and won something cool? No? Well, you can try this one! It's an even more exciting experience.
But you should not wait for your luck, the task is much more difficult. It's time to act! There is a small army of the Lego Little Green Men in the machine waiting for you. They all look absolutely the same on first sight. Actually, you're right, they are identical, except the one. The Chosen One. He's somewhere there in the machine, lurking among the other Lego Little Green Men.
What you have to do
As you probably guessed, your job is to find him! You even got a hint: a small picture on the left picturing the Chosen One. Look carefully through the rows of the Lego Little Green Men and try to find the Chosen One before the time runs out. Luckily for you, there are some other characters from Toy Story to help you in your searching! Pick one up to get another hint. After you feel experienced enough, you can try a harder level! The harder the mode, the more the Lego Little Green Men you find there and the less time you have.
Have fun and find the Chosen One!
If you enjoy playing The Claw, you might be excited to find out that there are 20 more Toy Story games you can try! The most popular is Woody to the Rescue, and the most recently added is Woody's Wild Adventure