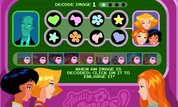 Play Now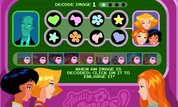 Unfortunately WOOHP's Secret Files is not available on your device. Please try one of the related games instead or visit our HTML5 category.
This Flash game is loaded using an emulator. If you notice any glitches(such as the game getting stuck or music/sound missing), click to play the original version with NuMuKi Browser for the best experience.
About WOOHP's Secret Files Game
Jerry knows everything about the three lovely spies and their friends. But Sam, Alex, and Clover want to know what these files contain. So what do you say? Do you think you can help them reveal Jerry's secrets in the WOOHP's Secret Files Game? Be a good spy and a friend to these three powerful women and find out what photos does Jerry possess.
As the head of the WOOHP organization, Jerry has a series of secret files that only he knows what they contain. And of course, like any other respectable spy, he has encrypted them. They are being protected by a secret code made out of symbols and patterns. Do you know what your job is here? You will need to accurately copy the sequence made by Jerry and discover the secret photos. Are you up to it? Then press that "start" button and let's begin.
Start decoding like a true spy
If you follow the specific patterns shown, you will most certainly achieve your goals and help the girls out. But how can you do this, correctly? Well, it is simple. Help the three girls by finding the secret combination of photos that Jerry has hidden. Try to memorize and repeat the exact sequence of signs and symbols after him. The pattern is the only thing keeping you away from the locked photos. Learning the order will help you unlock the secret files. Once a picture is decoded, you must enlarge it to see it better.
Each photo has a series of symbols that encrypt it. On every turn of the specific sequence, Jerry will add one more sign to the pattern that you will have to repeat. Make sure you pay attention to everything that is appended because you will have to repeat the exact same sequence of signs. Just one mistake will cost you the game. You will have to start everything from the beginning if you do not pay close attention. So just take a good look at the succession of symbols that Jerry is selecting and copy them. You've got this!
We know that you can do it. You can be the most fantastic spy the world has ever seen. But you must gain the trust of the three spies in order to achieve that. So just prove your worth and show them what a good memory you have. Pay attention to the patterns and reveal Jerry's secrets!
If you enjoy playing WOOHP's Secret Files, you might be excited to find out that there are 11 more Totally Spies games you can try! The most popular is Totally Spies Mall Brawl, and the most recently added is Robot Island