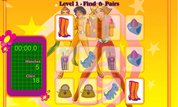 Play Now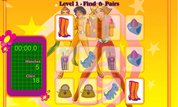 Unfortunately Memory Spies is not available on your device. Please try one of the related games instead or visit our HTML5 category.
About Memory Spies Game
A spy has to face many challenges to save the world. And for that, they need to have a perfect memory. Do you know how you can exercise it? By just playing the Memory Spies Game. Do you have the memory it takes to be an excellent spy? Are you able to save the world from evil? Show us that, by solving this puzzle right now!
How well do you think your memory is? Can you remember names, faces, and stories? But how about a series of pictures that you will need to match? Well, this is the primary purpose of the game. And you will have to prove yourself by matching as many images as you can in a short period. This is what it takes to be an excellent spy. So what do you think? Do you feel up to the challenge? Just press that "start button" and begin your journey.
Start your matching mission!
Let's see what you have to do here, fellow spy. First of all, you have to know that your mission is to find the matching pairs. So you must be really prepared and pay attention to everything that you see.
Select the level and the difficulty of your game. Make sure you know your ability and capacity of matching the pairs in a short amount of time. Each level has a different complexity. In the first one, you will only have six pairs to match. The second one comes with twelve different pairs of pictures. And the third and most difficult has eighteen possible matches.
Turn over the cards to find the perfect match. Do this as fast as you can, before the time runs out. Did you see the lipstick? Quickly find the other one! Do you know where the sunglasses are? What about that other pair that is missing? Find and match them all. Do not miss any of them or you will have to restart the game.
So what do you say? Are you ready to prove yourself and show the world what a great spy you can be? Then just start playing this game!
If you enjoy playing Memory Spies, you might be excited to find out that there are 11 more Totally Spies games you can try! The most popular is Totally Spies Mall Brawl, and the most recently added is Robot Island