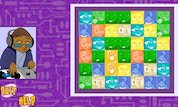 Play Now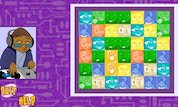 Unfortunately Sticky's Mixmaster is not available on your device. Please try one of the related games instead or visit our HTML5 category.
This Flash game is loaded using an emulator. If you notice any glitches(such as the game getting stuck or music/sound missing), click to play the original version with NuMuKi Browser for the best experience.
About Sticky's Mixmaster Game
Are you ready for some good fun? Then Sticky's Mixmaster game is all that you need to impress everyone and show the world how good you are.
Today you will learn how to mix your own beat, to create a brand-new remix that can be on top. You will be able to create beautiful sounds just by playing this puzzle game. Nothing easier than this! All you need to do is clean the board before the time runs out, and there you are.
After you pass some levels, you will be able to play back the video of the mix you made and hear for yourself your creation.
How to play the game
To clean the board, you have to click on pairs of two matching tiles. Every tile has a specific color, and there is someone's face on it. You have to start with tiles that are next to each other, this way being more comfortable to get to the other ones and unlock them.
You need to create enough space for the other tiles. Try to make a clear straight-line path with two or even fewer corners between the pieces; otherwise, you will not be able to make them disappear. Diagonals will not work unless you have cleared more paths first.
Be careful not to remain with any tiles at the end of the level, or you will lose, and you have to start again. You collect points for each correct match that you make. If you finish the level before the time runs out, the extra seconds will be added to your score.
If you enjoy playing Sticky's Mixmaster, you might be excited to find out that there are 7 more The Proud Family games you can try! The most popular is Attack of the G-Nomes, and the most recently added is Theme Song