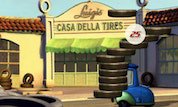 Play Now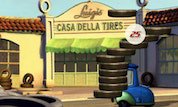 Unfortunately Luigi's Casa Della Tires is not available on your device. Please try one of the related games instead or visit our HTML5 category.
This Flash game is loaded using an emulator. If you notice any glitches(such as the game getting stuck or music/sound missing), click to play the original version with NuMuKi Browser for the best experience.
About Luigi's Casa Della Tires Game
The fact that Luigi lives in a small town and no cars are coming there is a bad thing for his little business with tires. It is hard to sell his best stuff when there are no customers. Even so, his partner and good friend Guido has a great idea. He is going to build the highest tower made only of tires. Therefore, other cars might see it and tourists will come to Radiator Springs. In Luigi's Casa Della Tires game you will have to help Guido create the most fantastic tower ever in order to attract customers.
Catch as many tires as possible
Using the left and right arrow keys from your keyboard move Guido from one side to another to grab the falling tires. Every tire is worth 25 points. When you manage to catch one, be careful not to drop it. You can wait and catch another one, or you can press the space-bar and put it on the tower.
If you catch more tires at once, you will have a better score but watch out because the tires might fall easily. At the end of the time, you will be able to see your final score but also how many tires you managed to get. If you feel like constructing an improved tower, you can play again and do your best one more time.
Luigi will see that you do not give up and he will be proud to have such good workers and friends at his shop. Good luck and have fun while helping Guido!
If you enjoy playing Luigi's Casa Della Tires, you might be excited to find out that there are 28 more Disney Cars games you can try! The most popular is Lightning McQueen's Desert Dash, and the most recently added is Disney Cars Jigsaw