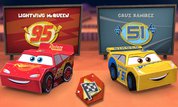 Play Now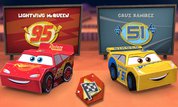 Unfortunately Cars 3 - Demolition Derby is not available on your device. Please try one of the related games instead or visit our HTML5 category.
About Cars 3 - Demolition Derby Game
Lightning McQueen is having some good times with his friends, and he takes all the chances to participate in any races he can. In Cars 3: Demolition Derby game, he has to compete with other cars and prove anyone else once again that he is still the fastest racecar.
This thing is not so easy to do because the road is full of obstacles and the other cars are good too. Lightning McQueen has to be at least the third to unlock additional courses, and with your help, he might be able to do this.
How to play the game
Use the left and right arrow keys to move McQueen and to take the corners. There would be no need for you to accelerate, the car will take care of this by itself. Collect the coins and the power-ups that pop up on the race track in order to gain points and to be able to use the nitro. When you collect enough nitro, you will be able to use it by pressing the lightning from your screen. Be careful because some cars might get in your way and will slow you down. Use the platforms to jump and gain an advantage over your competitors.
Once you manage to finish all the three laps, the level will be over, and you will see the number of stars that you have collected. To unlock more challenges, you need at least ten stars at the end of the five levels of the game.
Useful tips
At the end of each level, you can use your gained stars to upgrade different components of the car, such as the acceleration, the top speed, the endurance, nitro or resistance to shocks. The more stars you'll manage gain, the more upgrades you'll afford and the better the car will become.
Do your best to collect them all and show everyone that Lightning McQueen is still the best racecar that exists and no one can beat him.
Good luck!
If you enjoy playing Cars 3 - Demolition Derby, you might be excited to find out that there are 28 more Disney Cars games you can try! The most popular is Lightning McQueen's Desert Dash, and the most recently added is Disney Cars Jigsaw